SEO is a constantly evolving field and the advent of technology has further given much-needed thrust to it. As more and more business continue to tap into the capabilities abound of internet, we have been deluged with a wide array of tools, which are being employed in the SEO arena. Further, such tools have streamlined major operations of essence in the SEO and have changed the face of the way we accomplished SEO in the past.
SEM Rush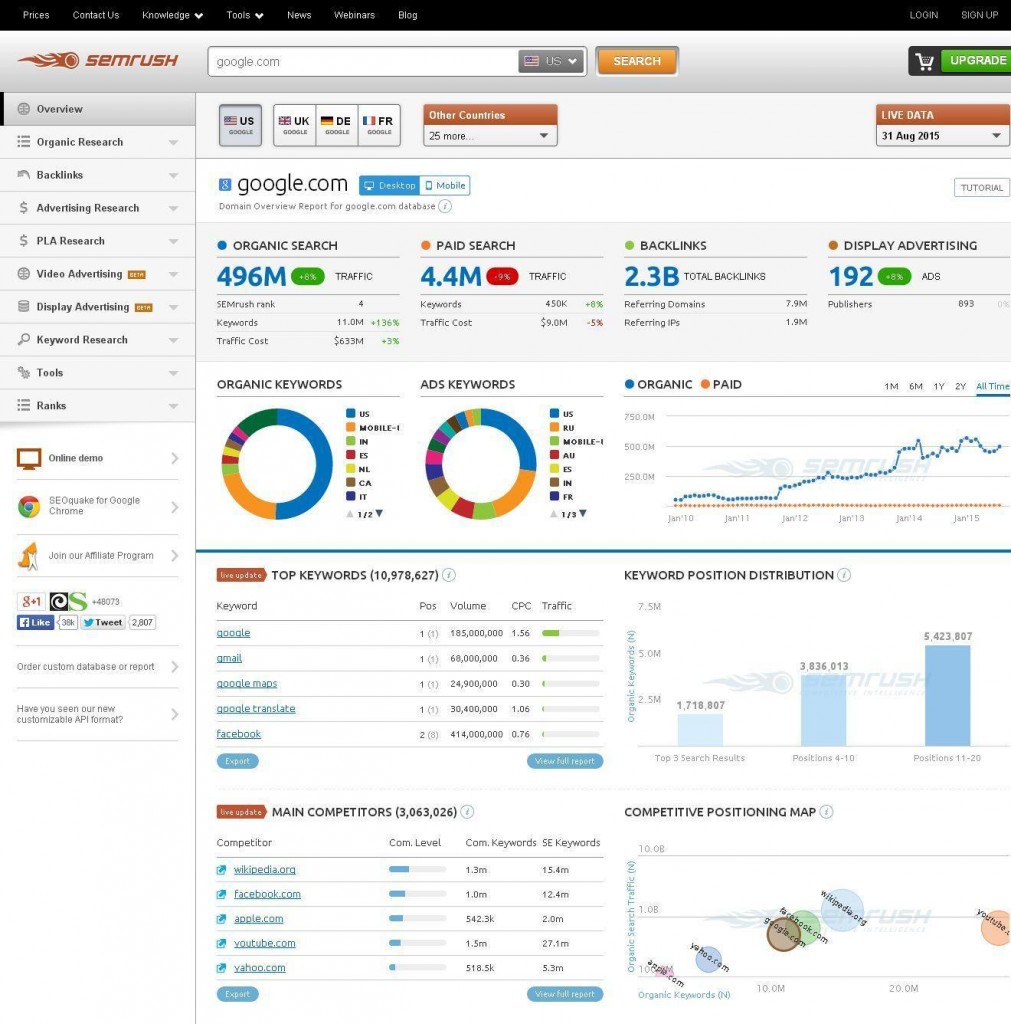 SEMrush is a powerful tool, which is utilized into gauging whether our website has adequate quotient of health or not. Further, during our operations to gain outreach and accomplish link-building activities, we employ SEMrush in order to check into the number of keywords ranked for by the website in Google. In addition, In case we come across sites boasting of high volume of inbound links but still there exists no keyword, ranked in SEMrush, then there are chances that those sites have been penalized. In addition, we can look into the aspect of organic traffic to measure out if any massive drop has struck the site. In the event of it, we understand that visit to the site will render our purpose ineffective. Additionally, we employ SEMrush into the domain of keyword research. We take the note of top sites, featuring against a primary keyword. In the subsequent course of action, we peruse the websites for the keywords, which they have been ranked for. Combination of keywords list with a number of sites in the industry would yield an exhaustive keywords list.
BuzzSumo
BuzzSumo is touted to be more of a social tool than SEO tool. However, in the recent times, it has been the case that social media and SEO have become inalienably integrated into each other. This has prompted the need for BuzzSumo into the arena of SEO activities. BuzzSumo is chiefly utilized in the search for ideas regarding visual, social, and blog content. Once repository of keywords has been created, these keywords are looked for in BuzzSumo. The purpose behind it is to churn out the ways of entitling the content. Moreover, BuzzSumo comes across as a one-stop solution when we seek to employ brainstorming to acquire ideas for new info-graphics.
In the end, it is worth concluding that a large number of online marketing companies have integrated standardized SEO practices into their operations. Also, such tools are pivotal to effective SEO practices. Thus, in order to reap the most out of your association with the SEO Company make it a point to ensure that aforementioned tools are employed into operations of the company.